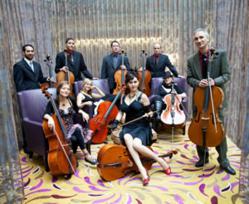 Cincinnati, OH (PRWEB) March 02, 2012
In the ultimate test of their quest to locate those universal moments of beauty that tie all musical genres together, the Portland Cello Project (or PCP) are releasing Homage on Could 1, 2012. Recognized for their dynamic reside shows and inspired arrangements of composers of all aesthetic persuasions, PCP will be taking to the road this spring and summer, such as a series of co-headline dates with Emily Wells.
Reserved tickets, $ ten ADV &amp $ 13 DOS (plus applicable fees), go on sale Friday March 9 at ten AM at http://www.ticketmaster.com, http://www.tafttheatre.org, the Taft Theatre Box Office and all Ticketmaster outlets including choose Kroger stores. Charge by telephone at 1.800.745.3000.
Recorded in studio spaces and sacred spaces all more than Portland, the album was mixed by Larry Crane (Sleater-Kinney, Elliott Smith, The Decemberists) at Jackpot! Studios and mastered by Jeff Lipton (Andrew Bird, Magnetic Fields, Bon Iver) at Peerless Mastering. Homage will also be obtainable on vinyl on April 21, 2012 for Record Shop Day, including a unique edition on colored vinyl. The LP will include a re-mastered version of their Kill Rock Stars digital single "All of the Lights."
From thundering cellos and drums transforming hip-hop songs, to whispered melodies by contemporary composers, to hip-hop themes turned into baroque-style puzzles, Homage blurs musical genres and styles. Covers contain "She Will" (L'il Wayne), "That is My Bitch" and "H.A. M." (Kanye West and Jay-Z) and a classical canon inspired by L'il Wayne's "Lollipop" that was arranged by PCP's founder/arranger Douglas Jenkins (originally for the Oregon Bach Festival). The "Lollipop Canon" and "Fugue on a Monstrous Theme" (inspired by Kanye's "Monster") were each recorded at the oldest church in Portland.
There's also a recorded version of the band's well-known reside rendition of Outkast's "Hey Ya," with producer Crane going for a Herb Alpert brass sound on the choruses. Says Jenkins, "We did a 6-week national tour once where we literally had each and every single city we played in sing along on the choruses, and then Adam Thompson from Thao with the Get Down Remain Down would judge each city using the Pitchfork scale based on how well they sang along. San Francisco won."
PCP's collaborations consist of their 2009 album with Thao and Justin Power (Kill Rock Stars), along with Peter Yarrow (Peter, Paul and Mary), Dandy Warhols, to cellist Matt Haimovitz, Laura Gibson, Mirah, Eric Bachmann and other people. They've toured with artists as varied as Buckethead and Alexi Murdoch, staying accurate to their three -fold mission: Bridging Communities – to play locations you would not ordinarily see cellos performing Bridging Genres – to play music you would not ordinarily hear played on cellos Collaboration – to highlight the several ways in which collaboration is the cornerstone of independence and creativity.
Along with the classically trained members of PCP, Rachel Blumberg played drums (M Ward, Decemberists, Bright Eyes). The touring members all bring one thing specific to the band's sound: Anna Fritz is also a songwriter and folk musician Skip von Kuske is jazz-trained and does a lot of electronic cello looping Kevin Jackson writes some of the groups arrangements, such as the video game themes (Final Fantasy, Super Mario Bros) and founder Douglas Jenkins, who engineers all the PCP recordings and has toured as a multi-instrumentalist Jenkins also has an MAT in teaching and does literacy function with struggling high school seniors in the Portland Public Schools. Additional members of note consist of Emma Wood, Justin Kagan, Collin Oldham, and Ashia Grzesik.
Emily Wells is an anomaly among musicians most of whom devote their careers striving for a key label deal. Before she was old enough to vote, a main label was courting Wells, two music-publishing businesses had been competing for the rights to her songs and she was recording with award winning producers. By the time she was legally buying her initial drink, however, Emily had chosen a different path. With true indie ethos, she moved from New York, leaving in her wake a lucrative deal from a major label, the renowned producers, recording studios, and a manager. Throughout that period of her life, Emily had been supplied almost everything that most musicians want. Every thing except what she, as an artist, needed most: creative manage.
Attaining the ever-elusive artist's dream of creative control, as Wells would soon discover, comes only at a cost. Wells' cost was the thousands of miles logged, traipsing across nation, playing in and outside of bars, pubs, and juke joints. She traveled in a tiny vehicle, dragging along guitars, a tiny bass, a giant old Linn 9000 drum machine, and a four track. When flush, Emily would spend the occasional night in a seedy motel area where she would tirelessly record with her archaic four-track and dirty old instruments. Ultimately landing in Los Angeles, Wells lastly learned by way of recording and performing, how to have the creative control she craved. Slowly building her personal studio, she taught herself how to record and produce. This is the studio in which she would develop, record, mix, and produce 'The Symphonies: Dreams Memories &amp Parties' her most up-to-date release.
For at full list of Taft Theatre shows pay a visit to: http://www.tafttheatre.org
Contacts:
For Taft Theatre: Rick McCarty | Rmccarty(at)memi(dot)biz | 513.977.1087

For Portland Cello Project: Angie Carlson | angie(at)propellerpublicity(dot)com | 718.387.1301

For Emily Wells: George Corona | geo(at)terrorbird(dot)com